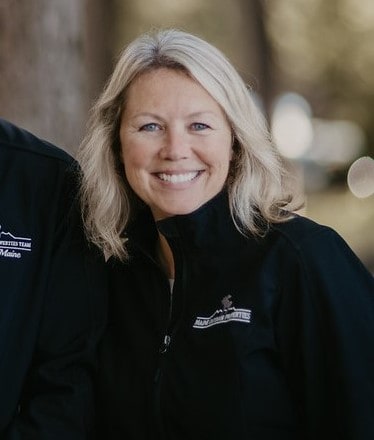 Sally Harvey
Sally first became a licensed agent 16 years ago when she was the Office Manager at her husband's real estate agency. Sally was "born and bred" in Maine and while raising their two children in Gorham, she and her husband Darryl completely renovated a 1800's farmhouse. Sally was first introduced to the Moosehead Lake region when her parents built a camp in Tomhegan Township when she was in her early 20's. She and her family now enjoy their own camp in the area and all the [...]
Sally Harvey
Sally first became a licensed agent 16 years ago when she was the Office Manager at her husband's real estate agency. Sally was "born and bred" in Maine and while raising their two children in Gorham, she and her husband Darryl completely renovated a 1800's farmhouse. Sally was first introduced to the Moosehead Lake region when her parents built a camp in Tomhegan Township when she was in her early 20's. She and her family now enjoy their own camp in the area and all the outdoor activities that the region has to offer. She has the knowledge of the area that her out-of-state clients depend on and enjoys seeing the satisfaction when they find the perfect home, waterfront property or piece of land. Sally's attention to detail, being a good listener and extraordinary custom service skills is what her clients have come to appreciate. Together with her husband Darryl and sister Amy and the Maine Outdoor Properties team, they provide their clients top-notch customer service.
Office Location
32 Pritham Ave
Greenville, ME 04441
Contact Info
Specifications
Languages:
Specialties:
Service Area:
Sally's Testimonials
Sally Harvey was excellent. We were so fortunate to have had her as our buyer agent. She was patient and kind, extremely knowledgeable about the Moosehead Lake area in which we were looking and was never pushy. It was very important to her that we were comfortable with our decision. We would definitely use Sally Harvey again and recommend her without reservation to anyone looking to buy or sell in Maine.
Christine W
Amy and Sally did a wonderful job showing us houses and helping us find the perfect one for us. We were coming from out of state and they really helped make sure our time house hunting was well spent. They kept in touch with us throughout the process and provided excellent service and friendly advice. I would not hesitate to recommend them to my friends and family.
Scott E
Sally is great.. She really kept on top of the whole process -both with selling and with the new purchase. She was tireless with her communication at all hours of the day, eveni gs and weekends. Thanks Sally....
Eric Frazer
I was very satisfied with the Harvey-Wilbur Team. They were responsive,skilled and were able to close very quickly. I highly recommend they professional representation will will definitely call upon them for future real estate transactions.
Blaine H
Sally went above and beyond to help sell the house for me! It was under unusual circumstances and she handled everything perfectly!!
Jennette Thomas
Sally and Darryl Harvey of the Harvey-Wilbur team worked tirelessly to help us secure a legacy property on Brassua Lake. It was a challenging transaction and they went above and beyond to coordinate contacts with local contractors, LUPC and local officials. Thank you!
Shawn M
The Harvey-Wilbur team was excellent to work with. They were very kind, personable and very professional. I would use this real estate team again without reservation.
Jamie B
Purchased a home in Maine for vacation and future retirement. Sally was willing to show us a variety of different locations so we could get a better feel of the area before settling on our house. Thanks for answering our endless questions! Had a great experience would recommend Sally to others.
Shawn a
We appreciate that the land was sold but the level of professionalism did not meet our expectations. When we first signed up w/ the Harvey- Wilbur team we thought we had 3 agents working for us, at least 1 of them close by, which didn't happan. Sally was out main agent. She was pleasant and always kept us in the loop of any potential buyers. What makes us feel somewhat neutral about your agency in this process were the following: 1. Throughout the entire process , Henry had to repeatly answer [...]
Henry Smith
Amy went above and beyond helping us find our camp, this included snowmobiling into the property this winter with us! Not living in that area didn't matter,we had total confidence in her dealing with the process. We love our new camp, thanks Amy!
Lisa a
Contact
Hi there! How can we help you?
Contact us using the form below or give us a call.
Hi there! How can we help you?
Contact us using the form below or give us a call.