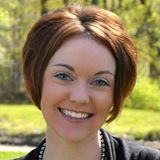 Michele Francis lived her adolescent life on Beals Island, a small fishing village on the coast of Maine. After completing her Bachelor of Arts in Communication at the University of Maine, she moved to Ellsworth where she and her husband, Chad, purchased their first home. That experience led Michele to sign up for a real estate course and she soon became licensed with Realty of
[...]
Michele Francis lived her adolescent life on Beals Island, a small fishing village on the coast of Maine. After completing her Bachelor of Arts in Communication at the University of Maine, she moved to Ellsworth where she and her husband, Chad, purchased their first home. That experience led Michele to sign up for a real estate course and she soon became licensed with Realty of Maine.
When Michele is not busy helping her wonderful clients buy and sell homes, she enjoys spending time with her husband and their three young children - including twins! Their hobbies include skiing at Sugarloaf Mountain during the winter months and purchasing and renovating distressed properties. Michele is also heavily involved in community activities as a volunteer for Maine Coast Memorial Hospital and Ellsworth Lioness Club. She serves as the Vice President of the Club and the co-chair of the annual Father/Daughter Dance. She has just completed a 2 year project as chair of the community campaign for Knowlton Community Park. This project took an old school lot in the center of Ellsworth and raised the needed funds to turn the space into a wonderful green space for the community to enjoy.
Michele works hard in her community and will work hard for you. She has received Realty of Maine's Sales Excellence awards in 2011 & 2012 and Realty of Maine's Executive Club Award in 2013, 2014 & 2015.
"When You Want to Buy or Sell, Call Michele!"
TESTIMONIALS:
"Michele was wonderful! My husband passed away in January and she was so in tune to that which I really appreciated. She was always there when I needed her and helped me with all the tax and legal work involved. She was amazing and I would work with her again in a minute!" Oct 2016
"Michele is a sweetheart! She went beyond what I expected when we had a rush closing while I was in NC. The new owners wanted to move in on short notice, so my handyman and Michele got all my stuff out and moved so it could happen. She was great to work with and I would refer her to anyone." August 2016
"We LOVE Michele Francis! You can tell her that even though she already knows it!!!!" July 2016


Office Location
185 State Street
Ellsworth, ME 04605
Specifications
Languages:
Specialties:
Service Area:
Michele's Testimonials
I'm so pleased by all that Michele has done to sell my property. She kept me informed on all that was going on and when I needed to speak with her she returned my call and e-mail promptly. I would recommend her and Realty of Maine to all. Thank you Michele.
Mona Sites
Michele was fantastic to work with. As first-time home buyers, she helped us navigate every step of the process, from searching for homes, creating an offer, communicating with the sellers, and making sure we were ready for closing. We are so happy she helped us find our wonderful new home!
Kimberly Stewart
Michele Francis is fantastic! She knows real estate inside and out. She is very helpful and works hard to get the deal closed as soon as possible. We would absolutely recommend Michele to anyone!!!
David McCourt
Michelle Francis was very professional and easy to work with she wasn't pushy in trying to make a sale. She listened to what we wanted and went beyond our expectations. She was very helpful in information and communication from long distance to keep us up to date in progress of the purchase of our home. I would highly recommend her to anyone looking for a excellent realtor.
Carleton Brodie
I highly recommend Michele For both your buying and selling Real Estate needs. I actually worked with Michele at Realty of Maine years ago, and she was the first one that I thought of when it was time for my family to search for our dream house. She's professional, reliable, and fun to work with. Thanks Michele!
Paris Calor
Thank you for all your time and care in making sure the closing went as smoothly as it did.
Rick & Ellen
Michele was wonderful! My husband passed away in January and she was so in tune to that which I really appreciated. She was always there when I needed her and helped me with all the tax and legal work involved. She was amazing and I would work with her again in a minute! Oct 2016
Michele was a great pleasure to work with. Moving from out of state and not knowing the area, she made arrangements for us to see properties from Lincoln to down east. Once we settled on our home, she walked us through the process of buying the home. She even went out her way to make arrangements for visiting family to see the house before closing. She also ensured we were able to get all of the utilities turned on by closing. I would highly recommend Michele to anyone looking to [...]
David