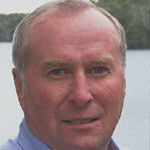 Mark Withee was born in Belfast, Maine. Having lived in various parts of Maine, Mark is familiar with many of the state's geographic areas. Most of his life has been lived on or near the coast. He is starting to build his own home on Joy Bay, Gouldsboro this summer. Mark has experience in all aspects of building and has been his own general contractor for four building projects. Mark is retired from the construction industry after working for over thirty years for Verizon. He is [...]
Mark Withee was born in Belfast, Maine. Having lived in various parts of Maine, Mark is familiar with many of the state's geographic areas. Most of his life has been lived on or near the coast. He is starting to build his own home on Joy Bay, Gouldsboro this summer. Mark has experience in all aspects of building and has been his own general contractor for four building projects. Mark is retired from the construction industry after working for over thirty years for Verizon. He is especially familiar with many properties for sale along the coast in Downeast Maine from Bar Harbor/Ellsworth area to the Lubec/Eastport areas. Mark is a Mason and Shriner. He also enjoys hunting, fishing, hiking and woodworking
Testimonials .
"We had a great experience with Mark. We started searching online and Mark was always quick to respond. We had originally rejected the house we bought. Mark suggested we take a look at it anyway and proved us wrong in our opinion of it. He then helped reduce the price for us! Mark was easy to communicate with and met us according to our schedule. We would both refer Mark to anyone." Dec 2016
"Our real estate deal went beautifully with Mark. He was honest, friendly and knowledgeable of the area, market and contractors that we needed. He is such a great guy that we plan to stay in touch. We would highly recommend Mark to all." Jan 2016
"Mark is a great guy. We really hit it off and he was great to work with. I would recommend Mark to anyone." August 2015
Office Location
185 State Street
Ellsworth, ME 04605
Specifications
Languages:
Specialties:
Service Area:
Mark's Testimonials
Mark went above and beyond to find us the right house in Maine! Through his extensive knowledge of the housing markets, Mark coached us through every step of the way ensuring we got the best value, in the right location and most importantly the right property. By getting to know us and what our housing preferences were, Mark helped us make the right choice for the biggest investment of our life. Thanks Mark and Team ROM! Pat VanVranken 21 Old SchoolHouse Lane Lamoine
Patrick & Caroline VanVranken
I think Mark went far and above with selling our property. There were situations he helped us through that don't normally happen. i could not be happier with the service we got from him.
James aka Andy McKenney
We had a great experience with Mark. We started searching online and Mark was always quick to respond. We had originally rejected the house we bought. Mark suggested we take a look at it anyway and proved us wrong in our opinion of it. He then helped reduce the price for us! Mark was easy to communicate with and met us according to our schedule. We would both refer Mark to anyone. Dec 2016